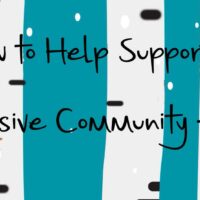 December 5th, 2022
Helping to Support an Inclusive Community for All
Dear Friend of Extend-A-Family Waterloo Region,
Last year we celebrated 40 years of investing in a community where belonging and meaningful relationships are available to everyone. While our vision remains elusive for many people in our region, I want to take the time to celebrate what we have grown together. What started as a group of parents around a kitchen table has grown into an organization that serves over 2,000 people with disabilities and their families, plus countless others through community connections and advocacy.
If you haven't already watched our video chronicling our first 40 years, I would encourage you to click on the link or visit eafwr.on.ca/about/our-history/ and spend 12 wonderful minutes learning more about where we've come from and where we are going. We need your help to reach even more community members and grow our reach in the most meaningful and impactful ways possible.
From our humble beginnings, together we have built a community that provides many ways for people we support to build relationships and create real experiences of belonging and contribution. People with disabilities deserve to have a place where they feel welcomed and supported, where they are free to pursue their interests, make friends, connect to others, and know that they belong. Yet, people continue to face many obstacles, barriers and prejudices, and so our work is far from finished.
Our time of isolation during the pandemic lingers fresh in our minds. With your support we will be able to regain the ground that was lost and use the lessons learned during the past two years to restore and build our connections. Community Development initiatives like our Advisory Group have empowered people with lived experience to lead the way when it comes to planning events, experiences, and sharing their voice to shape the direction of work at EAFWR and elsewhere in our region.
When we are guided by people with lived experience, we are able to better meet our goals of creating
welcoming spaces for people in our community who have been marginalized. When we focus on partnerships and follow instead of leading, people can have the connections, relationship building, and belonging that we all value in the most effective and meaningful way.
We are counting on your generosity to help fund our work in the community. Your donation of $25, $50, $100, or more will be invested in the strengthening and growth of connections, ensuring that our community is one in which everyone belongs and is valued for their contributions.
Better Together includes you.
With gratitude,
Allan Mills Executive Director
On behalf of the team at Extend-A-Family Waterloo Region
How to give:
You can give securely online at Canada Helps, by mailing in the response card supplied with this letter, or by emailing Kerry Cressman at kerry.cressman@eafwr.on.ca.
On our website, you'll find more stories about people achieving their goals and meaningful connections created through a community of inclusion and belonging. You can learn more about the incredible work that your donations make possible by checking Facebook, Twitter, Instagram and YouTube as well.