February 1st, 2020
#FHFebruary2020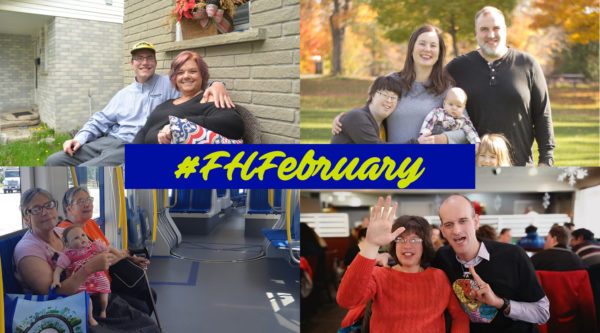 Written by: Terral McBay, FamilyHome Coordinator
FamilyHome is a program that has been offered through Extend-A-Family Waterloo Region for almost 30 years. It is a living opportunity we cherish dearly, as it provides a home, family relationships, love and support to adults in our community who have a developmental disability and who want to live with a family.
Over the years, we have recruited many new families to join our village and become part of the FamilyHome community. These families are people who are interested in opening their homes and lives to offer relationship and support to another person and to live together on a full time basis. The families range from couples and single people, to empty nesters, families with children and newcomers.
Out of all the recruitment methods we have used over the years, we have found time and time again that word of mouth is the most common avenue by which new families are introduced to the program. FamilyHome is a provincial program known by other names like Host Family and Life Share. Organizations across the province who provide FamilyHome have also found that word of mouth continues to top the list when recruiting new families.
The interesting thing about word of mouth is that its success is mostly luck, or as we've often termed it, "serendipity." Recruiting, using and relying on word of mouth involves a lot of finger crossing, hoping, wishing and waiting for the right family to come to us at just the right time.
Over the years, we have pursued paid advertisements through radio and print ads. We have been interviewed and shared stories in the local newspaper to speak about what life is like for people in FamilyHome. While all of these avenues have helped raise the profile of this program, they have not directly produced any tangible returns of people, or families, seeking to offer their homes and themselves for a relationship through FamilyHome.
The majority of people we speak to about FamilyHome have never heard of it. When we talk with family members, friends, colleagues, community partners, or perfect strangers in the community and describe FamilyHome to them, 9 times out of 10, the response is "I've never heard of that before!"
Sometimes, awareness of an amazing idea needs a little nudge so that idea becomes something people are talking about. FamilyHome is one of those things that needs a nudge! We are excited to announce that we are launching the second year of our own campaign, FamilyHome February, to increase our community's understanding of this incredible opportunity.
There is so much value in word of mouth, but we know that we need to explore other channels to generate awareness and continued conversations about FamilyHome. We want to change the community narrative, so when people gather and hear about this interesting program called FamilyHome, they can say "I've heard of that! I want to hear more about it!"
This is where YOU come in.
We've taken to social media to tell our community what FamilyHome at Extend-A-Family Waterloo Region is all about and encourage to follow along! Please follow us on Twitter at @EAFWR_FH and help us spread the word with Likes and Retweets. Check out our weekly #FamilyHomeFriday posts which are featured on EAFWR's Facebook Page. We're also on Instagram @EAFWR. Be sure to subscribe to our YouTube channel and check out our videos. Please Like and Follow to see what we're up to. We have some exciting projects lined up for #FHFebruary and into 2020 and can't wait to share them with you!
We need families to open their lives to other people. We also need people to help us spread the word. Come join us as we tell #WRAwesome about this amazing opportunity!
Live Together, Learn Together and Grow Together in FamilyHome.